02.03.19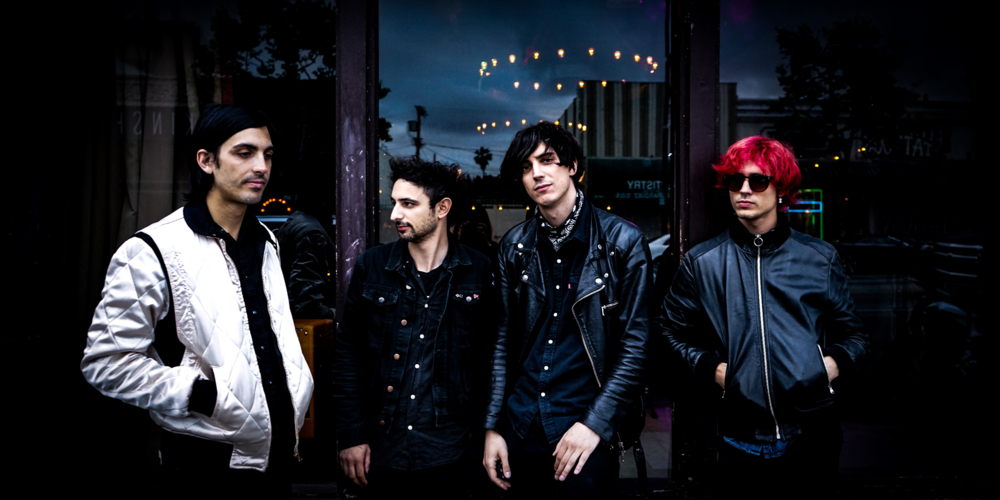 NEW CANDYS + THE OSCILLATION

Support: JAGUWAR 02.03.19 in Berlin, Zukunft am Ostkreuz
Tickets zu NEW CANDYS + THE OSCILLATION
Berlin
---
Informationen
NEW CANDYS
Hailing from Venice, Italy, New Candys formed in 2008. Described as dark modern rock'n'roll, the band combines noisy, brooding sounds with distinct melodies and has developed a notably dynamic and symbiotic connection between their music and meticulously crafted visual imagery. The band consists of Fernando Nuti, Andrea Volpato, Alessandro Boschiero and Dario Lucchesi.

Released in 2012, their first studio album "Stars Reach The Abyss", mastered by Jon Astley, brought the band on tour in England and Italy. The song "Meltdown Corp." was included in the annual compilation "The Reverb Conspiracy", co-released by the highly revered independent label Fuzz Club and The Reverberation Appreciation Society (Levitation Austin). In 2015 their second studio album "As Medicine", mixed by John Wills of Loop, was released through Picture In My Ear and Fuzz Club and distributed by The Committee To Keep Music Evil. In the next two years the band toured Europe three times, also performing at the Secret Garden Party and Liverpool Psych Fest. They supported bands such as Slowdive, The Vaccines, Savages, Jon Spencer Blues Explosion and The Warlocks.

New Candys' third and latest album "Bleeding Magenta" was released in 2017 by Fuzz Club and repressed in the United States by Little Cloud Records, followed by its European promotional tour and a performance at SpaceFest in Gdańsk. In 2018 they toured Australia playing 14 shows, headlining both Sydney and Melbourne Psych Fest and performing at the Adelaide Fringe. Next the band went on a US-Mexico tour of 18 shows plus a KEXP live session in Seattle. The American tour started with two shows in New York and proceeded along the west coast, including performances at Pappy & Harriet's in Joshua Tree and the Highland Park Bowl in Los Angeles. Later in the summer they performed at Fuzz Club Eindhoven, headlined by The Black Angels, and supported The Brian Jonestown Massacre for both of their Italian shows. Some of their songs are featured on episodes of Showtime Networks original TV series "Shameless".
Press:
"The new record, Bleeding Magenta, I can't recommend it enough." KEXP's John Richards, 2018
"Mixing brooding psychedelia with post-punk stylings, the record captures the full intensity of their live show with devastating results." Drowned In Sound, 2017
"New Candys sound like something between The Stooges and The Jesus And Mary Chain. Super wild and super cool." Primal Scream's Simone Marie Butler, 2017
"Fuzz-drenched dark moody pop." Clash Magazine, 2016 "Sounding like a mix of Tame Impala and Temples if they were to cross over to the dark side." Orange Amplification, 2015
"The insistence of Oasis meets the mystical early Pink Floyd." Jon Astley, 2012
THE OSCILLATION
Veering between krautrock edginess, droning medicated tones and noise driven no wave fuzz, The Oscillation recalls the kosmische musik of Neu! and Tangerine Dream interpreted with an eye on Pil's dubbed out punk funk, Miles Davis' experimentalism and Spacemen 3's strung out blues rock.
Beginning in 2008, when DC Recordings released the debut "Out Of Phase", The Oscillation quickly expanded into a formidable live force. The ensemble has featured numerous different musicians plus the live visual manipulations of film maker Julian Hand. Now, almost Ten years on and several hundred live shows later, the band return with two new albums in 2018 that explore kosmische drone-scape and powerful psych-tinged rock n roll.
First Lp of the year, U.E.F comprised of two 22-minute slabs of unforgiving, dystopian electronica. The new LP "Wasted Space" will be released on September 21st 2018 on Fuzz Club and sees a return to ranting vocals, pummelling danceable rhythms, jagged guitar feedback and hypnotic soundscapes.
The Oscillation will be blowing eardrums and minds around Europe to co-incide with the release.