24.04.19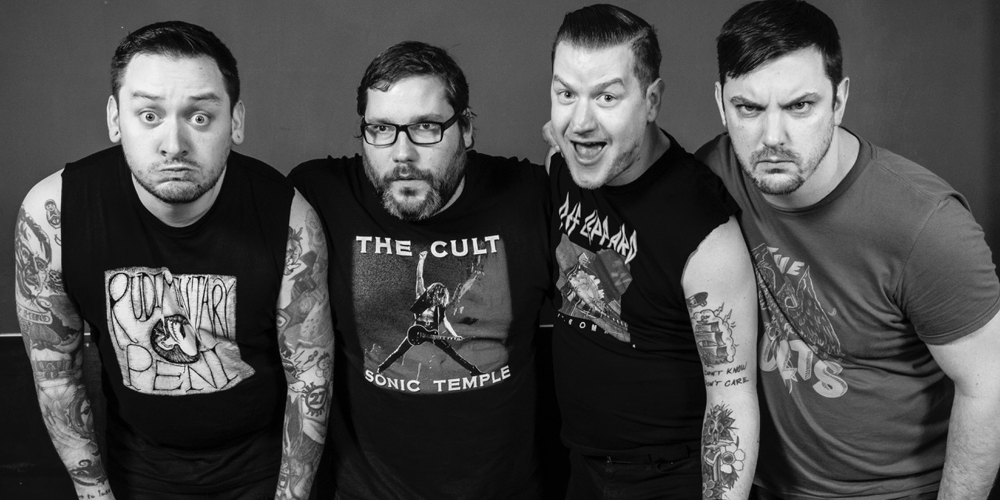 Ox Fanzine, Livegigs.de, Metal1.info & Ask Helmut präsentieren:
TEENAGE BOTTLEROCKET

Support: tba 24.04.19 in Berlin, Cassiopeia
Tickets zu TEENAGE BOTTLEROCKET
Berlin
---
Informationen
It seems hard to believe, but the boys in Teenage Bottlerocket aren't boys any more: They've been a band for morethan 15 years, and have spread their pop-punk gospel across the world through a series of killer records like Total and They Came From The Shadows and an equally killer live show, one that is packed full of sing-alongs and circlepits. What's really wild is that the whole thing all started thanks to a well-placed CD-R.
Despite the rise of social media and digital streaming services, Carlisle knows the best way to connect to music is through one-on-one connections like that—and this helped inspire the creation of Stealing The Covers, the Wyomingpunk quartet's new album, comprised of 14 songs all by bands Bottlerocket has encountered throughout their travels, from groups who share their same ZIP code to complete strangers who passed along a CD at a gig.
"The idea first came to light 10 years ago," Carlisle says. As far as I can remember, my brother Brandon came up with the idea. We just thought, 'Let's do an album of doing songs by our friends' bands.' But some of these bands aren't even our friends!"
"Most of our friends were just fuckin' thrilled we were doing this," the singer says.
After whittling down their original list of 32 covers to 14, the band—Carlisle, vocalist/guitarist Kody Templeman, bassist Miguel Chen and new drummer Darren Chewka—gathered at the Blasting Room in Fort Collins, Colorado, for eight days in early March to knock this record out alongside engineer Andrew Berlin (Descendents, Rise Against). This was the first time Bottlerocket had recorded together since the passing of Brandon Carlisle, the band's original drummer and Ray's twin brother, in late 2015, and the experience was as challenging as it was rewarding.
"It's kind of complicated to jump into the studio and do a bunch of other people's songs—changing keys to fit our voices, moving tempos around, running into stuff we wouldn't have necessarily run into if we would have just written these songs ourselves," Carlisle says. "A couple of the songs are weird. There are some songs we chose to dothat were out of our comfort zone. But it was cool to go into the studio and take on this record together—everybody had their say. Darren started tracking his drums on Sunday, and he was done tracking his drums on Mondayafternoon. He was a beast."
The album will mark Bottlerocket's return to Fat Wreck Chords after a brief but successful stint with Rise Records. AsCarlisle tells it, there's no place else the band would rather be.
"It's almost as if we didn't leave," he explains. "We had everyone at Fat's blessing to go to Rise in the first place, andwe were really happy with the way everything worked out with Tales From Wyoming, but coming back to Fat is like being out of town and then coming back home. We just feel more comfortable on Fat Wreck Chords.
"It's cool when Fat Mike texts me and says, 'I fuckin' love your new record. It's better than your last two records.' It's like, 'Awesome, Fat Mike. We didn't write these songs,'" Carlisle says, laughing.
The band will support Stealing The Covers with a world tour this year, bouncing through Europe and Australia before landing back in the U.S., just in time for a prime slot at the Fest in Gainesville, Florida. Expect some of these covers topop up in the band's set, too—and maybe even some new originals.
"Kody and I have been writing a lot of songs, and we recorded two original songs recently as well for a new 7-inchout later this year," Carlisle says. "We're just gonna keep on rockin' in the free world."