30.05.19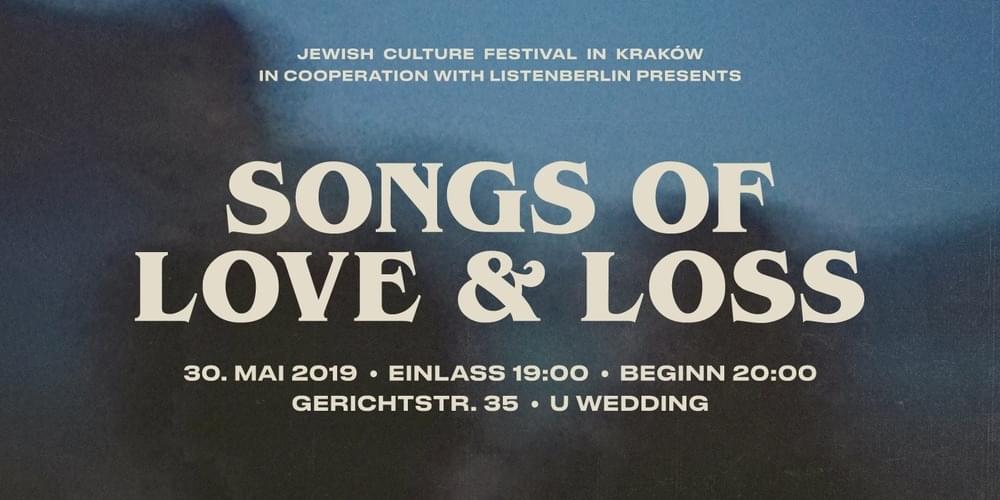 Ask Helmut & TAZ präsentieren:
EMMANUEL WITZTHUM & STREICHOKTETT

Tourtitel: Songs Of Love And Loss 30.05.19 in Berlin, silent green
Tickets zu EMMANUEL WITZTHUM & STREICHOKTETT
Berlin
---
Informationen
Krakow Jewish Culture Festival in cooperation with ListenBerlin presents the Polish-Israeli-German project based on Emmauel Witzthum's latest release "Songs of Love and Loss."
"Songs of Love and Loss" is a piece for a modular string ensemble, electronic music and vocals, composed by Emmanuel Witzthum. It was written to express the journey following romantic separation and the process leading to the rebuilding of the relationship. The piece follows the seasons of the year as a representation of the breakup, the sorrow of solitude, and the gradual rekindling of love, ending on a note of hope tinged by previous sorrows. The piece layers string harmonies, ambient electronics, and vocal harmonies together.
Voice, electronics: Emmanuel Witzthum (IL)
String quartets of Sinfonietta Cracovia - The Orchestra of the Royal City of Krakow (PL) and Deutsche Symphonie-Orchester Berlin (DE)
Live Visuals: Thomas Köner (DE)
Emmanuel Witzthum - musician and digital artist from Jerusalem. He has worked on many international projects, including with the Krakow Jewish Culture Festival and the Jewish Museum Berlin. He has performed as a violinist with the Staatskapelle Berlin, the Israel Philharmonic Orchestra, the Orpheus Chamber Orchestra, and the ensemble Inter-Contemporain.
The Jewish Culture Festival in Krakow shows the best of contemporary Jewish Culture from Israel and the Diaspora. For more than 30 years we have given 30,000 people annually a genuine Jewish experience and an understanding of cultural diversity.