27.08.22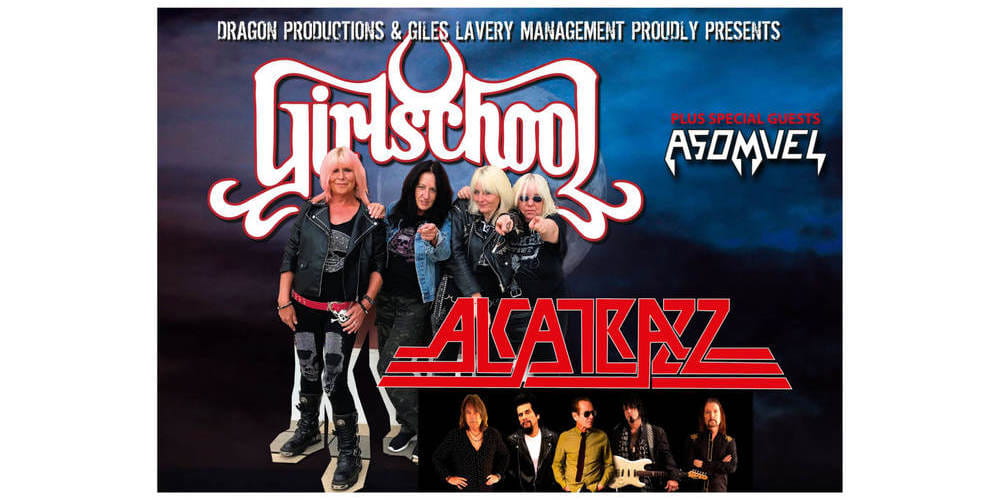 Deaf Forever präsentiert:
GIRLSCHOOL + ALCATRAZZ

Support: ASOMVEL 27.08.22 in Berlin, Lido
Tickets zu GIRLSCHOOL + ALCATRAZZ
Berlin
Ausweichtermin – Bitte beachten Sie das neue Datum und ggf. den neuen Veranstaltungsort. Tickets behalten ihre Gültigkeit.
---
Informationen
GIRLSCHOOL are a British rock band that formed in the new wave of British heavy metal scene in 1970s and frequently associated with contemporaries Motörhead. They are the longest running all-female rock band, still active after almost 40 years.
Originally formed in 1975 from a school band called Painted Lady, Girlschool enjoyed strong media exposure and commercial success in the UK in the early 1980s with three albums of 'punk-tinged metal' and a few singles.

During their career, Girlschool travelled the world, playing in many rock and metal festivals and co-headlining with important hard rock and heavy metal bands. They maintain a worldwide cult following and are an inspiration for many female rock musicians. Despite frequent changes of line-up, original members Kim McAuliffe, Enid Williams and Denise Dufort are still in the band. The only original member no longer in the band, lead guitarist and singer Kelly Johnson, died of cancer in 2007.

ALCATRAZZ is an English-American heavy metal band formed in 1983 by Graham Bonnet, Jimmy Waldo and Gary Shea. They are best known for their songs "Island in the Sun" and "God Blessed Video", and have gone through a number of line-up changes, leaving Bonnet as the only constant member. The band is also notable for featuring a previously-unknown Official Yngwie Malmsteen, who was the guitarist of Alcatrazz during 1983–1984, and was subsequently replaced by Steve Vai and then by Danny Johnson.

ASOMVEL released their well-respected debut LP, Kamikaze, in 2009. Barely a year later, the band was shaken to its core when front-man, Jay-Jay Winter, was killed in a road accident.

Although a devastating tragedy, co-founding guitarist, Lenny, knew that the band had to continue in tribute to the determined spirit of their founder.

Since releasing their 2013 album, Knuckle Duster, with Bad Omen Records to much critical acclaim, and recruiting Jay-Jay's Nephew, Ralph, the band has spent the last couple of years playing around the world; including tour dates in Brazil, Japan, Slovenia, Germany, Belgium, Spain, France, Italy, Switzerland, The Netherlands, and The UK & Ireland – these dates included many respected festivals, and lengthy tours with other established artists.
Diese Show ist gefördert von Neustart Kultur, der Initiative Musik und der Beauftragten der Bundesregierung für Kultur und Medien.