05.11.22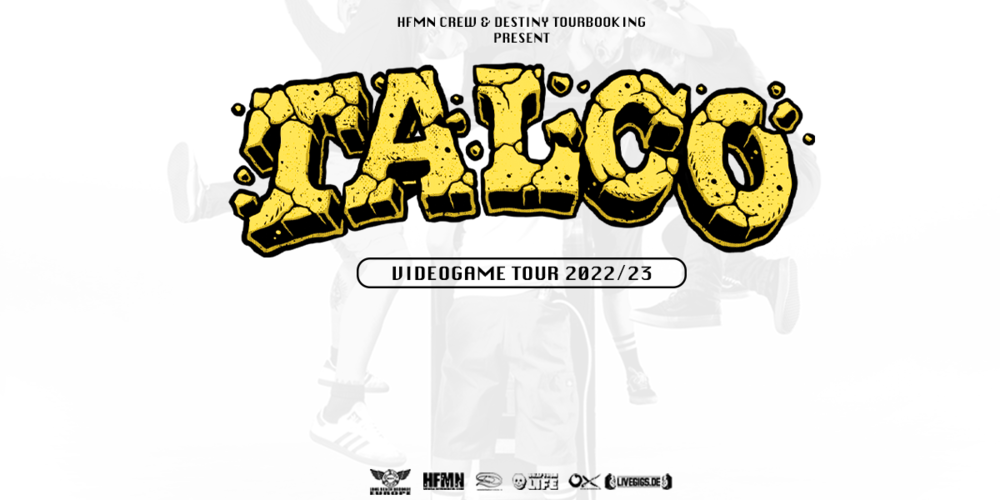 TALCO

The Roughneck Riot 05.11.22 in Berlin, Astra Kulturhaus
---
Informationen
TALCO
With more than 8.000.000 streams of the song "La Danza dell'Autunno Rosa", the brass-punk band Talco is by far more than an underground phenomena. While likewise 150.000 monthly listeners on Spotify and over 80.000 fans on Facebook account to their digital track record, too, Talco prove to draw a huge crowd in the old physical world easily, as well: having played two completely packed, sequenced shows in a row at Fabrik, Hamburg, Germany, as well as Berlin's Astra, the six-piece found vastly sold out venues all across the republic of Germany and thus played over 10.000 people on their last tour.
Shows at almost all renowned German festivals such as Hurricane, Southside, Deichbrand, Highfield, Greenfield, Open Flair, Taubertal, Ruhrpott Rodeo and many more were to follow.
A notable success story not least due to the fact that there are only few bands with Italian vocals that are capable to impressively tear down language borders and communcations problems and create such steadily growing fan strongholds in Germany apart from their homecountry and obvious markets such as Spain or Switzerland.
With the release of their seventh studio album And The Winner Isn't (2018), the was not onlny able to transform each of their gigs into a sweaty, wild party with their political ambitious punkrock full of brass-attacks and spiced up by racky guitar riffs. The abnd also takes a stance when it comes to serious topics regarding the society we all live in: in cooperation with the famous soccer club Fc St. Pauli, inlcuding a video-shoot to the song "Domingo Road" in the stadium of the club plus players of the club as well as Ewald Lienen, the band speaks up against homophobia, racism, doping, sexism and plays of power within sports donating the proceeds of a specially created 7-inch picture vinyl as well as exclusive merchandise items to the campaign "Nazis raus aus den Stadien" (Nazis get out of the stadiums).
Music still is the universal language. Talco are the living proof for that proposition for 15 years by now.
The Roughneck Riot
https://www.youtube.com/watch?v=P4OFwWCP3fY
https://www.youtube.com/watch?v=Y0g7gTC2uc0
https://www.youtube.com/watch?v=Y0g7gTC2uc0
https://www.youtube.com/watch?v=3eBMfO22UyU
Roughneck Riot spielen schnellen Folk Punk aus UK und sind besonders in UK, Frankreich, Benelux und Deutschland bekannt. Sie haben gerade zum ersten Mal seit Jahren ein neues Album rausgehauen das sofort von mehreren Pressestellen weltweit als "Best Folk Punk Record of the year" betitelt wurde - zurecht! Roughneck Riot haben viele schnelle und ein paar mid-tempo Song
Fast-driven folk punk from UK, especially known in UK, France, Benelux and Germany. They just released their new album in years that has been immediately titled "Best Folk Punk Record of the year" by several press outlets from the whole globe. They have a lot of fast and some mid-tempo songs that are very danceable, unlike other Celtic Folk Punk bands their sound remains pretty hard and straight-forward, the acoustic instruments such as Banjo and Mandolin create an epic atmosphere on their live shows.
https://mailchi.mp/fd17749cf167/folk-punks-roughneck-riot-kndigen-neues-album-fr-2022-an-6176485?e=[UNIQID]