25.06.23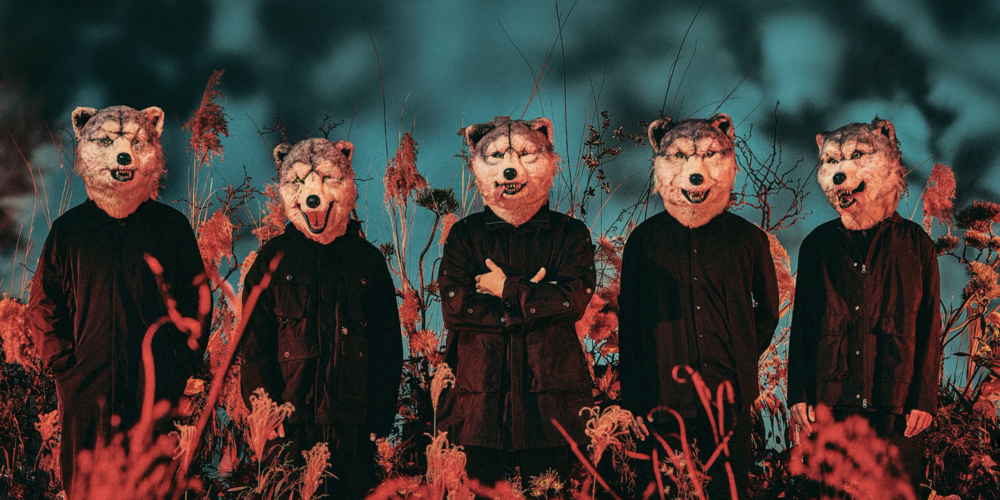 MAN WITH A MISSION

Support: tbc 25.06.23 in Berlin, Astra Kulturhaus
Tickets – MAN WITH A MISSION
Berlin
---
Informationen
INFORMATION ON MAN WITH A MISSION
MAN WITH A MISSION are one of the most successful rock bands in Asia today. The half man, half wolf collec@ve consist of Tokyo Tanaka (vocals), Jean-Ken Johnny (guitar, vocals, rap), Kamikaze Boy (bass), DJ Santa Monica (DJ), Spear Rib (drums).
They regularly sell out arenas across their homeland and have also completed sold-out headline tours of the UK, Europe and US, also taking part in overseas touring with names such as Zebrahead and Jimmy Eat World. The five-piece have a rabid following in the UK, no beQer demonstrated than at the overflowing tents at fes@vals including Reading & Leeds and Download.
MAN WITH A MISSION have been a part of major cultural moments in Japan and beyond. Their songs have sound tracked numerous films, TV shows, video games and TV commercials including supplying the main themes for the brand new Demonslayer anime release.
The band celebrated their 10th anniversary in 2020 with a trio of MAN WITH A MISSION compila@on albums including their greatest hits, following that in 2021/22 with a double CD release - Break & Cross the Walls I & II. There's s@ll no stopping the feral energy of MAN WITH A MISSION
==================================================
【HISTORY OF MAN WITH A MISSION】
In the meantime, in the farthest away land of "Ladyland" there lived a genius biologist named Dr. Jimi (hobby: guitar) who was about to conclude a mad science experiment for a pack of superior creatures that would be called MAN WITH A MISSION (MWAM). acquire each other's wealth and power.
Are they human? Are they wolves?
Their looks may be deceiving and even comical at first glance, but they have incredible brain power and a superhuman physique. Such superb abilities enabled them to carry out the planet's most challenging top secret missions, and made them untouchable by the world's fearsome and powerful leaders including Genghis Khan, Attila the Hun, and Ivan the Terrible
The principality of Zeon had them work in the dark shadows of history in various locations around the world.
Dr. Jimi was plagued by guilt and regret that his creations had contributed to some of the most evil deeds in history and decided to put an end to it. He wanted to ensure that they wouldn't fall under the spell of evil again and so he froze them into eternal sleep in a far edge of the world.
Determined not to let his creativity potentially bring more evil into the world, the Doctor burned his guitar. He managed to escape the hands of evil and cheat death again and again, but he couldn't avoid his destiny. Retribution for his death was to keep MWAM frozen under the glaciers in the South Pole. Jimi's last words were, "I'll try getting a straight perm in my next life."
Time passed by and it was now the year of 2010. The planet had gone through worldwide economic crisis, numerous political and social tensions across borders, and was slowly destroyed by pollution induced global warming. The warming and deterioration of the planet then melted the icy caskets that Dr. Jimi had jeopardized his life for. MWAM awoke from eternal sleep!
Are they working for justice for this world, or are they nothing else but evil ?Either way, "MAN WITH A MISSION" is now back on the mission around the world!
Gefördert von Neustart Kultur, der Initiative Musik und der Beauftragten der Bundesregierung für Kultur und Medien